Equiity Review – Reliable broker with diverse trading assets
Broker selection is a complex task, from regulations to trading conditions, traders have to research many details about the company.
One key metric during evaluating the Forex broker is proper regulations and security policies. After that, traders look for attractive trading conditions with low costs and no hidden fees.
To make this process easier, our team has researched a multitude of popular brokers and revealed which ones can be trusted.
Let us now evaluate the Equiity broker and conclude if this company can be trusted with your hard-earned money or not.
Equity Review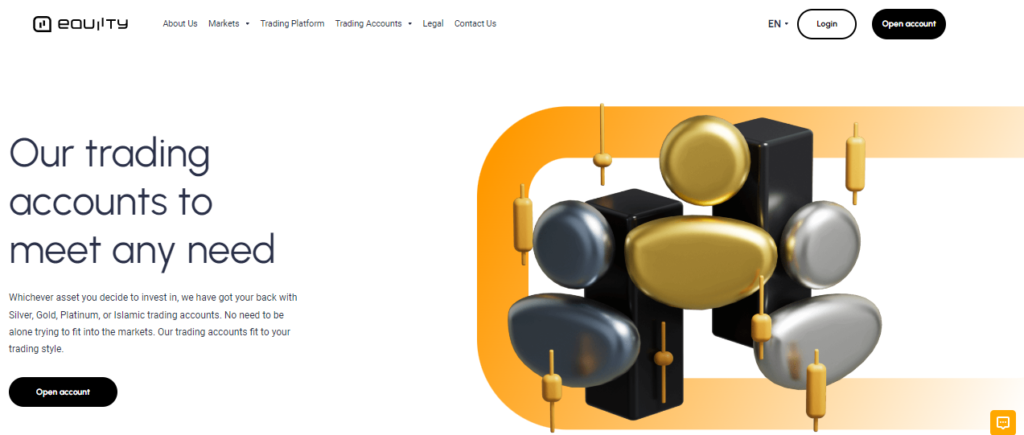 The website of Equiity is simple and clear to understand. All the information is ordered in the menus which can be accessed from the top of the page. This is important because the more user-friendly the website is, the less trouble traders have in finding all the necessary information regarding important trading conditions. Trading platforms, markets, accounts, and payments are all given clearly and conveniently.
But the good things about Equiity don't end with the website, the support is also very polite and knowledgeable in the three languages offered. So, what is important for a trader when visiting the website of a broker? Easy-to-find website, good customer service, and simplicity of setting up a trading account.
With three key steps for trading, all being excellent, Equiity is the Forex broker worthy of considering.
License and Background
Equiity follows strict policies ensuring the safety of all of its clients. The broker is regulated by the Financial Services Commission of Mauritius (FSC) and follows all its guidelines and rules. The FSC is not a very strict regulator, giving brokers under its license some room for flexibility. Despite this, Equiity still follows strict rules and only offers up to 1:200 leverage and ensures traders can not lose more than their initial investment by applying the negative balance protection to all trading accounts.
Clients' funds are further protected by segregated bank accounts, making it impossible for Equiity to touch traders' funds. This is super important and ensures client funds are safe from the broker's employees, limiting the possibilities of any errors or fraud from the company.
Another significant policy is the broker's membership of the Investor Compensation Fund, meaning eligible investors will get compensation in case the broker goes insolvent.
With all these three key policies plus the regulation license, Equiity is a reliable broker that adheres to the rules and standards of the FSC.
Account types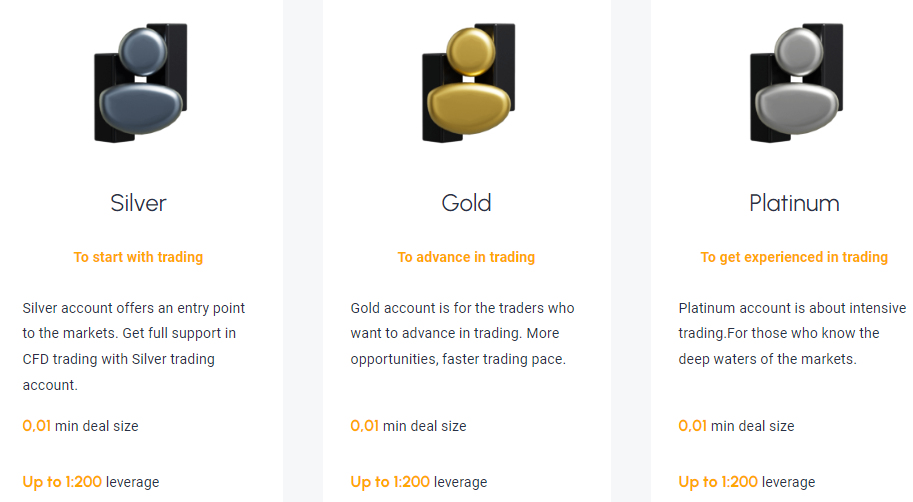 Currently, Equity offers three accounts called the Silver, Gold, and Platinum accounts, each of which differs in services and spreads. Higher-tier account types come with lower spreads and more services to assist traders. Platinum account users will enjoy the maximum benefits, while the Silver account is an entry-level account with all basic services offered. Gold accounts are the most popular accounts because they offer balanced specifications between gold and platinum with attractive spreads and the majority of services. All trading accounts come with the same range of leverage for all instruments, with the only major differences between accounts being services and spreads.
Silver account
The minimum initial deposit starts from 250 USD or EUR depending on the trader's preference and enables traders to open positions with the lowest lot size of 0.01. A silver account is an entry-level trading account providing all the basic things to a trader. Total tradable instruments are 350 and leverage is 1:200 for Forex and metals. The spreads for EURUSD, GBPUSD, USDJPY, and Crude oil start from 2.6 pips. Trading account charges no trading volume commissions, meaning traders only have to pay the spreads during the opening and closing of the trading positions. Gold trading comes with 7.4 pips at Equiity which is a bit higher than the industry average, making Gold, and platinum accounts more suitable for trading precious metals. Despite the lack of many services on the Silver account, dedicated support and hedging are provided by Equiity.
Gold account
Gold accounts come with even lower spreads on all instruments. Major pairs start from 2 pips spreads, and Gold has 5.6 pips. Crude oil is also starting from 2 pips, which can be a tremendous advantage for commodity traders.
Where the Gold account shines is the abundant services it allows traders to use including a dedicated account manager, webinars & video tutorials, a 25% swap discount, dedicated support, and a hedging allowance.
The trading conditions are more attractive on Gold accounts, making it well-suited for general day trading. Equiity offers even lower spreads on the Platinum account, which we will research next.
Platinum account
With spreads on major pairs and crude oil from 1.4 pips, Platinum offers the best trading conditions among the three accounts. Together with a dedicated account manager and other services, the platinum also offers a News Alert feature. This alert is very helpful to always be informed about upcoming important news that can throw markets up and down violently. Another advantage of the platinum account is its 50% swap discount, which is especially attractive for swing traders who love to have opened trades for days long.
Islamic Account
Each of the three accounts considered above comes with its Islamic account option, allowing traders who follow the Sharia law to select and open a suitable trading account. Islamic or a swap-free account allows traders to open positions without paying swap fees for having an open position for days.
Trading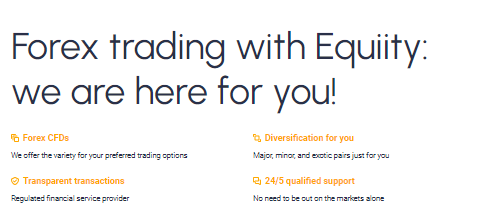 After defining whether the broker is reliable, the next part is to look at its assets and define if it has diverse instruments to trade. Equity offers around 350 trading instruments in various trading assets including Forex pairs, stock CFDs, indices, commodities, and cryptocurrencies. Let's discuss each of these asset types and benefits by trading them on the Equiity platform.
Forex – Equity offers a multitude of Forex pairs as CFDs, including all majors and minors, and a handful of exotic pairs. Since Equiity offers all instruments in the form of CFDs, it enables traders to buy or sell any instrument they prefer instantly and speculate on price movements either up or down. All pairs come with 1:200 leverage and a minimum lot size of 0.01 making it possible to start with a very small budget.
Stocks – Equity stock CFDs come with attractive spreads and low commissions, enabling traders to speculate on the stock markets without hidden costs or increased commissions. Major popular stocks like Amazon, Apple, Google, Facebook, and many more are available for anyone to trade on Equiity's proprietary trading platform.
Metals – Gold, Silver, and Platinum are offered again as CFDs and ensure traders can access popular metals. Other commodities are also offered with lower leverage limits. Metals can be traded at 1:200 just like Forex pairs. This is very high and attractive leverage for metals and with the minimum lot size of 0.01, it is possible to trade with the minimum deposit amount of 250 USD. The lowest spreads are available for Copper from 10 points or 1 pip, which is super attractive when compared to other brokers.
Indices – Nasdaq Composite, FTE 100, and a multitude of E-mini indices offer traders the ability not to miss any opportunities in these instruments.
Cryptos – Equity offers all popular cryptos in the form of CFDs including Bitcoin, Ethereum, Litecoin, BNB, and many more. CFDs give traders greater flexibility, especially when trading cryptos, reducing execution speeds to mere milliseconds.
Platforms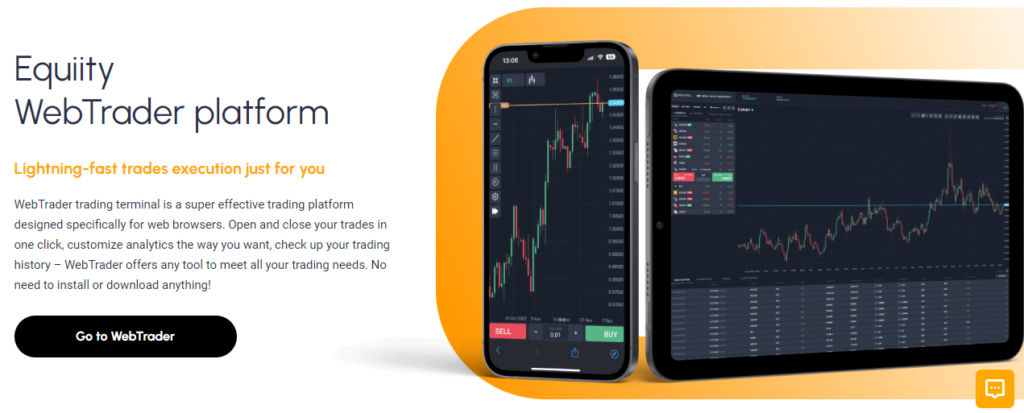 Equiity offers its proprietary web trading platform to all traders. Unfortunately, there are no other platforms like MT4 or MT5. It is designed with modern visuals, and an appealing user interface and enables lightning-fast execution speeds. All trading instruments being offered in one trading software makes it very comfortable for traders who love to trade different assets simultaneously.
Payment methods
Deposit and withdrawal speeds are very important for traders to withdraw profits as fast as possible. Usually online payment systems are faster with withdrawals and Equiity offers both the most popular Skrill and Neteller as payment options. Together with online payment wallets, Visa and Mastercard bank cards can be used as well.
Promotions and Bonuses
Currently, as the broker has established itself as a safe option, it does not offer any trading bonuses and promotions except dedicated services for trading accounts.
Education
Currently, Equiity does not have a dedicated section on its website with educational resources. All webinars and video tutorials are only offered for Gold and platinum account holders, making it impossible to gain an education without opening one of these trading accounts. With the abundance of resources available online, this is the slight downside of the broker and for only beginners, unless they open any of the abovementioned accounts. Beginners should always start with a free demo account and practice trading before going live with their funds on the line.
Summary
In the end, Equity is a decent Forex broker with diverse assets, and multiple trading accounts, offering flexibility to traders depending on their preferences. The safety and security are top-notch, with a moderate leverage system and average minimum deposit requirements. The broker is a legitimate company with proper regulatory license and policies, ensuring traders are trading in a safe environment relevant to proper laws.