What you need to know before investing with Videforex
Videforex is a Forex and CFD trading broker, they offer their customers the opportunity to trade with 100 assets, using three types of accounts; gold, silver, and bronze, and each of them entitles the trader with a different bonus rate, based on the trade value. The broker offers a 1:100 maximum leverage to their traders and requires a minimum deposit of $250 to start the first trading account. Videforex uses their Webtrader, that is available on desktop as well as through mobile application.
Videforex works as an outsourced company in the Marshal Islands, which is might dictate that Videforex is a scam because forex trading entails international transactions activities that usually undergo hefty regulations, therefore, lots of companies seem to offshore their such activities to a location that lacks the regulations, such as the Marshal Islands, which makes their activities quite suspicious and under the question.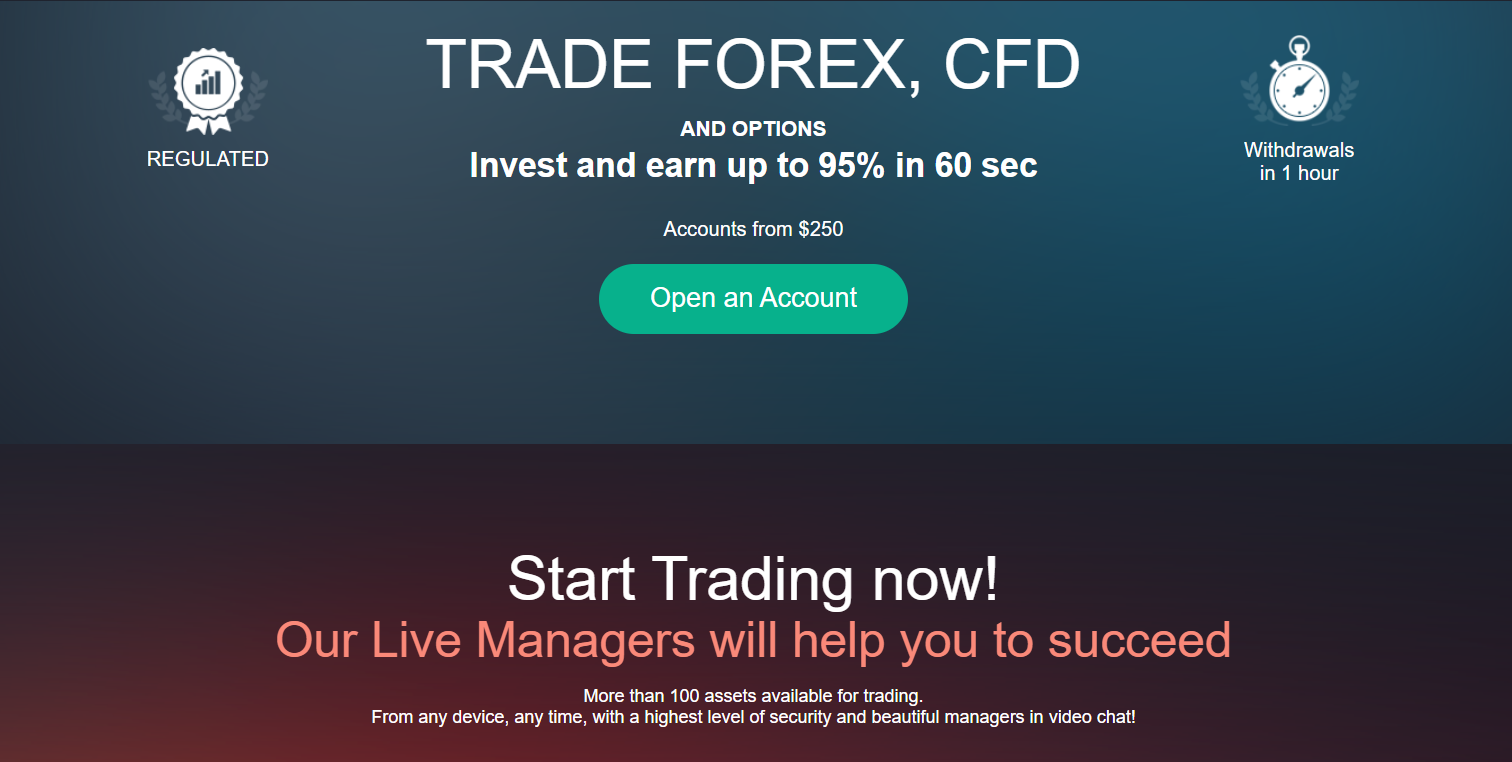 The website is packed with visuals and colored slides, as well as images of their agents, which is irrelevant to the services that they provide, because they provide very little information on what type of trades they offer, what types of assets are tradable, and how are they going to use your money for the trades.
Assets and platform
Traders are offered more than 100 tradable assets as written on the website, however, you can never tell what are these assets exactly, because that is not mentioned anywhere on the website, and you can only see that once you have registered and funded your money into your account. In addition, another indicator that Videforex is fraud is that demo accounts are only available for those who have completed the registration of their accounts and you will be asked to fund your account before starting your demo account, which makes absolutely no sense!
Videforex does not offer any high-end trading platform such as MetaTrader4 or MetaTrader5, rather, they have their own WebTrader, which lacks lots of sophisticated functions, it only offers basic trading tools that any broker uses, nothing really reflects whatever they are promoting, add to that, they offer trading via the mobile application for Android and iPhone users, but they have only Android link in this section, which does not have any landing page tied with it.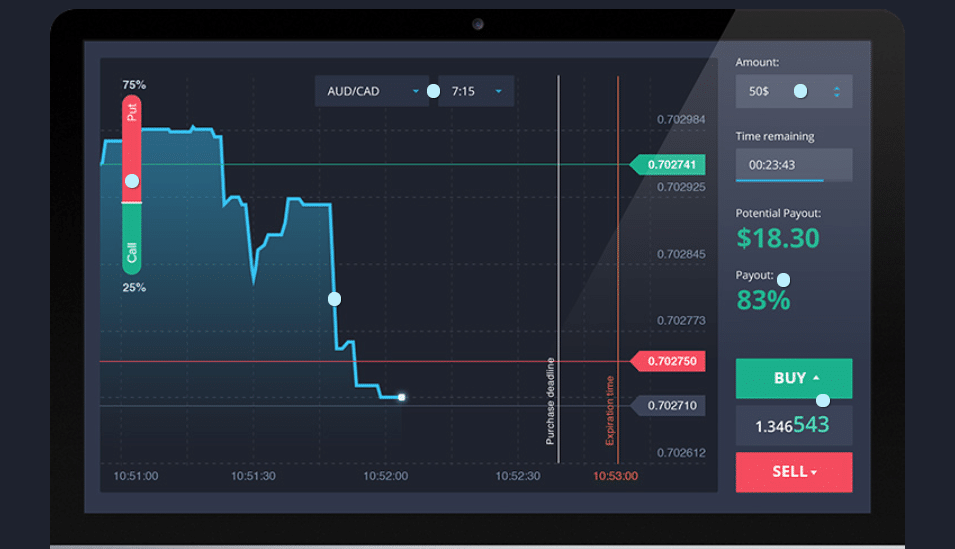 At the first glance, someone might be overwhelmed with the exaggeration of colors and visuals offered through the website, which make no connection to the intended services provided by the broker, add to the images of agents and referral of "live chat with your beautiful manager" that implies nothing but the unprofessional image on the level of the quality of Videforex
Trading accounts
Videforex offers traders 3 types of accounts (Gold – Silver – Bronze) and each type is associated with a different bonus rate
Bronze trading account yields a 20% trading bonus and requires a minimum deposit of $250
Silver trading account yields a 50% trading bonus and requires a minimum deposit of $1000
Gold trading account yields a 100% trading bonus and requires a minimum deposit of $3000
The broker offers a generous leverage rate of 1:100, which raises another red flag if Videfore is legit, because the maximum multiplier ratio allowed in Europe is 1:30, and as long as Videfore says that they operate in Europe, this makes the operation of Videforex not legitimate.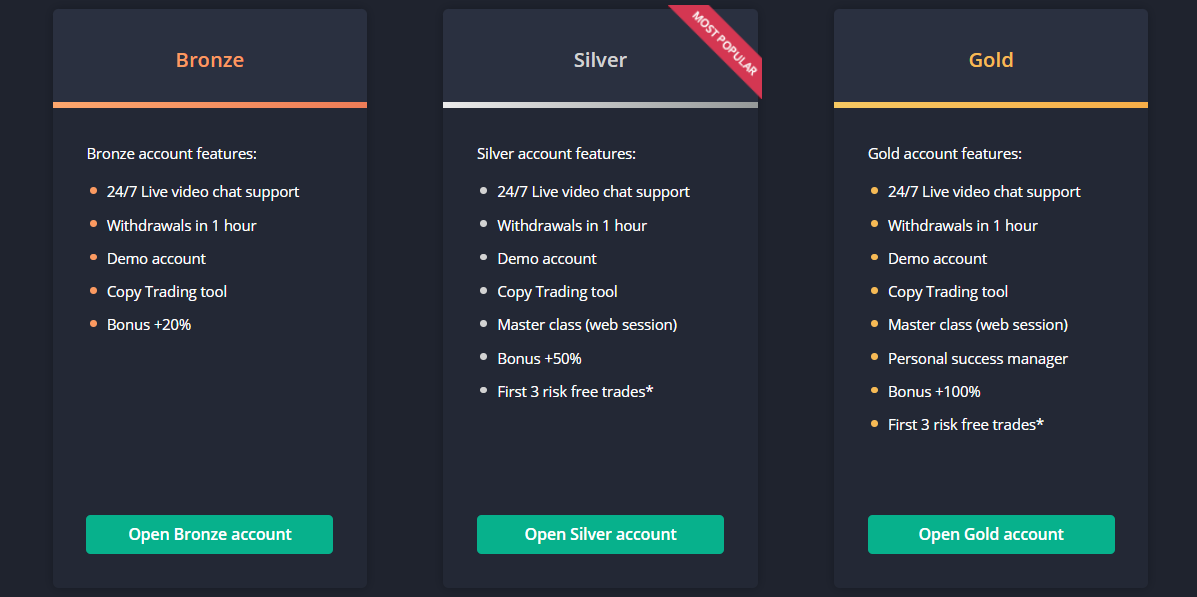 You can fund these accounts in quite different ways, such as direct credit/debit card, or using any crypto-waller, and the funds are supposed to be in your trading account instantly
The platform does not mention any aspect of education as several brokers already do, they do not keep you informed about how are they trading with your money, and if you are a beginner trader, few brokers include education program, while Videforex website does not tell anything similar, and the education tab in the website includes only FAQs that every common broker would have, nothing very educational and nothing really impressive according to the way their services are promoted in their website. Good luck if you are trying to reach them on the telephone number pinned at the top of their website because they basically do not pick it up at all, only the answer machine will respond and tell you to hold until an agent is available, but seems that their agents are never available.
Regardless of any Videforex review, the claim that this broker makes by saying that withdrawals are processed in 1-hour maximum is enough to really understand how fake is it, because it is quite hard to believe that international transactions will take place in such a short time when even simpler and local transactions usually take more time.
Customer support
Videforex promotes a lot about their special customer support approach, they are available on some social medial platforms, like Instagram and Twitter, where they post some promotional codes for trading with them, as well as some news about their services in a one-way communication, that does not really encourage any customer interaction or involvement
With the repetitive emphasis on 24/7 live video chat support and the unique possibility to trader over the weekend, which cannot be true because the global Forex market does not work Saturday and Sunday, and their live chat support is helpless, despite claiming to have offices in 6 countries such as United States, Australia, Russia, China, Singapore, and Thailand, it seems that nobody is really willing to pick up the American phone number for customer support queries.
Promotions and Contests
They frequently refer to their generous rewards and gifts, they claim to do giveaways of Apple Watch, iPhone, iMac, and iPad, but there are no rules or regulations on how to participate. In addition to a contest where everyone has the chance to win, where this as well does not have any relevant description to understand how does this thing go, which ultimately adds to the ambiguity of this broker
Videforex state that they do not charge any registration and maintenance fees, which a regular trader cannot believe because every trading account has fees to be kept running, and no broker will do that with their own money, and there are no signs of any commission fees which is the only common way how brokers make their money, unless if they make their money directly from the capital you invest in the trading account!
Finally
There are several brokers that are legitimate and clearly state their duties and responsibilities, and any trader can understand and try, while Videforex overwhelms the readers with a pinky life full of money and profits, which even a beginner trader finds hard to believe because every trading activity is tied with some risk.
Education is a very important part of any trade done with a broker, which Videforex does not make any reference to, so if you are a trader and you invested your money here, you need to wait for hope and promises to wait for your revenues because you will have no idea what are they doing with your money