TradeEU review – emerging multi-asset broker
When selecting a broker, there are a number of things to consider. The first and foremost is the level of safety. You need to make sure that the broker you entrust your hard-earned money with is regulated.
The next thing you need to know is whether the broker offers a variety of trading instruments. In case you are a beginner and not sure which asset to trade, it's best to open an account with a multi-asset provider. Some traders fail to trade currency pairs but become wildly successful trading stocks and vice versa.
Account types and trading platforms are also very important. It's critical that you get a trading platform that enables you to conduct a thorough technical analysis and make well-informed trading decisions.
You also need a professional customer support from your broker to help overcome technical challenges that might arise time to time.
In this TradeEU review, we'll discuss the topics above and more about this broker. Our goal is to aid you to pick the best financial service provider.
Policies and regulations
Safety and security of your funds is the most essential when investing. TradeEU is authorized and regulated by one of the top financial regulators/competent authority, the Cyprus Securities and Exchange Commission (CySEC). In addition, the broker provides Negative Balance Protection, keeps clients' funds in segregated accounts and is a part of investors' compensation scheme – as they are all requirements of the applicable law.
CFD trading is associated with leverage. Traders borrow funds from their brokers to increase their position sizes. As a result, when trade size is too large and the market makes sharp moves, traders may lose more money than what was on their trading balance. To counter this, broker implements 50% Stop Out levels through all three account types. Traders are guaranteed that their balance will never go negative, and even if the unlike event happens, clients can reach out to support and the broker will change the balance back to zero.
The account segregation is also very important. Traders are guaranteed that even if the broker goes bankrupt, traders will receive their funds. Some low trust brokers mix client funds with the company's account that damages safety and security.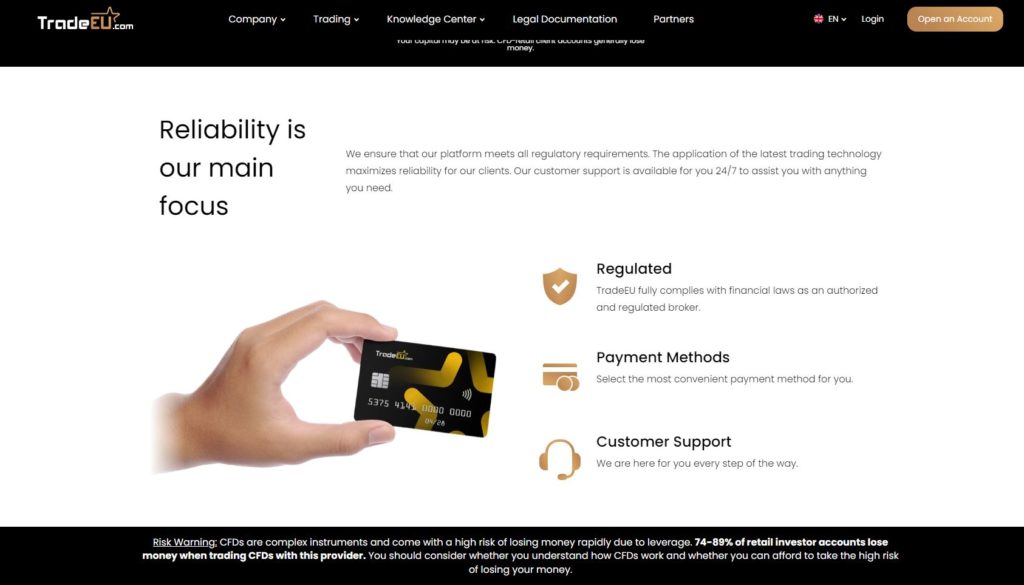 Assets
Traders have access to more than 250 assets through MetaTrader 5 platform. The list of instruments includes: Currency Pairs, Indices, Metals, Commodities, cryptocurrencies, and Stocks all as CFDs.
The assets are limited to CFDs, however, that is not a bad thing. CFDs are preferred choice for possibly making profits short and medium term. Whereas, for long term investing, physical stocks and precious metals are preferred.
Trading CFDs come with many benefits:
Traders can benefit from both bull and bear markets by going long or short respectively
No need to worry about where to store the physical assets or how to cash out
CFDs are more liquid and have tiger spreads
CFDs can be traded using leverage
On the downside, it's worth mentioning that CFDs have rollover fees, that are tiny and charged for keeping positions open overnight, however, they can add up overtime. This is why long term investors prefer physical assets.
Forex – The broker offers Major, Minor and Exotic forex pairs. The major ones are the most liquid pairs and have the best trading fees.
Indices – with TradeEU, investors get access to trading the most popular indices including FTSE 100, US 30, US 500, GER 40, etc. Indices are following the performance of the basket of certain stocks. And therefore, an index can also be used as an indicator for measuring a health of certain industry or sector.
Stocks – There are numerous most popular company stocks available for trading as CFDs with TradeEU. The list of companies includes: Facebook (Meta), Alibaba, Amazon, Apple, Microsoft, Google and more.
Cryptos – trading cryptos as CFDs are preferred for short and medium term speculating as traders don't worry about crypto wallets and cash-outs. What's more, traders get leverage for trading Crypto CFDs. In addition, traders can go short or long. TradeEU offers popular pairs such as BTC/USD, ETH/USD, LTC/USD, etc.
Commodities – Commodities are raw materials that companies mine or grow. TradeEU provides access to trading precious metals such as gold, silver and platinum. In addition, traders can speculate on energy prices such as Crude and Brent oil, and Natural Gas. There are also soft commodities, such as Sugar, Corn, Cattle, etc.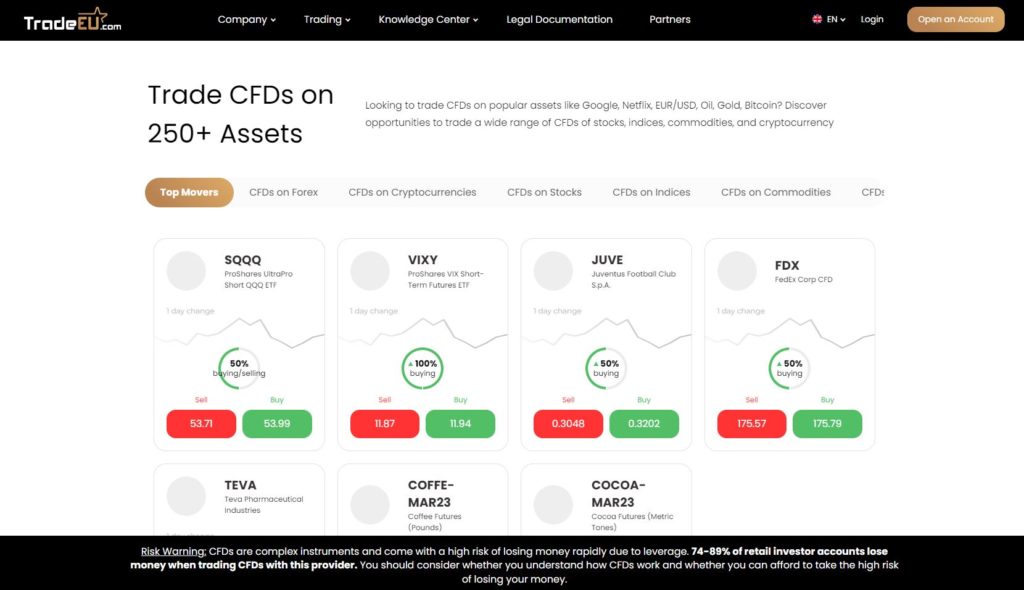 Accounts
In order to meet the needs of different traders, TradeEU gives traders access to 3 account types.
The maximum available leverage is 30:1 for all accounts, which protects traders from placing oversized trades. And trading fees depend on the account type. Let's discuss each and see how they differ.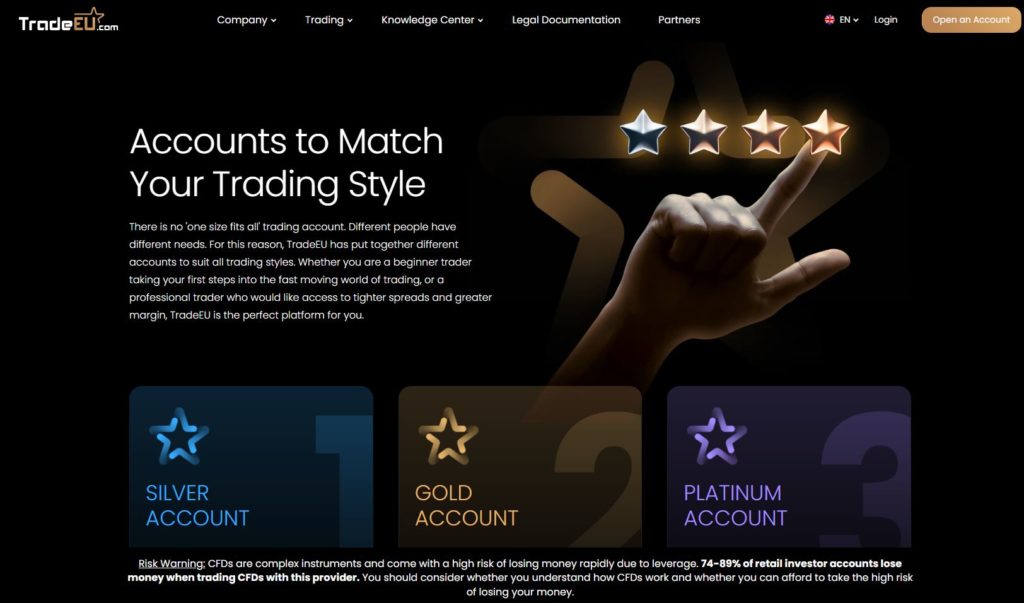 Silver account
The silver account is the most basic one, and it's aimed at beginner traders. There are no commissions, and spread markups start from as low as 2.5 pips on EUR/USD. The account enables hedging, usage of EAs and has access to trading all 250+ assets both through MetaTrader 5.
Gold account
Gold account holders have personal account managers, pay less trading fees than Silver account holders. There are no commissions as well, and spreads start from 1.3 pips. The Gold account is aimed at more seasoned traders.
Platinum account
The Platinum account offers the tightest spreads. The spreads on EUR/USD start from as low as 0.7 pips. The platinum account is for professional traders, and it offers top trading conditions. Platinum account traders have access to all the 250+ instruments, and they have personal account managers.
Trading Platform
TradeEU provides MetaTrader 5 through all three account types. MetaTrader 5 is the best and most popular multi-asset platform. It was designed and released in 2010 and therefore, might look outdated for some, but the platform compensates by being extremely reliable and functional. The fact that the platform has being around and very popular for many years explains why there are so many MT5 trading algorithms and indicators developed. Most popular indicators are preinstalled on the platform, however, you can access Meta Market or develop your trading robots (Expert Advisors) for automating trading. TradeEU supports EA automation trading.
Conclusion
To sum everything up, TradeEU is a reliable multi-asset broker offering more than 250 trading instruments for speculating CFD markets. The broker is licensed by CySEC from 2021 and provides negative balance protection, keeps funds in segregated accounts and provides a secure environment for trading. The broker offers CFD on Stocks, FX, commodities, indices and cryptocurrencies for trading. There are 3 account types to choose from and the main platform to use is MetaTrader 5. Fees depend on the account type you pick. Overall, TradeEU is a great broker for trading various asset classes.