Olive Markets Review – Can you trust this Forex broker?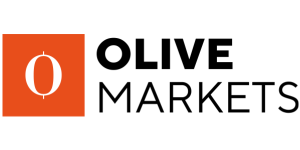 Olive Markets Forex Broker is an online platform that offers financial services to traders from all around the world. They claim to be providing the best possible trading services with guaranteed customer satisfaction. According to their website, their team consists of professional financial consultants that are experienced – assisting you with all the trading options that you could ever need. At the first glance, their website along with manifestos look quite attractive, however, we decided to do our research to discover whether the facts stated above are true or not.
The first and most important part for us in the process of evaluating a specific broker is its legitimacy. You should always be very careful before choosing a broker as it can easily be a scammer whose only intention is to steal your money. The good news is that Olive Markets provides all the necessary information about licenses and regulation on their main webpage, saying that the company is a member of GLOFSA (Global Financial Services Authority) that gives them the authorization to provide investors with a secure trading experience. Upon checking, we discovered that these facts are actually true, meaning that Olive Markets is actually regulated, and while depositing with them, you don't have to worry about money or privacy issues.
The maximum leverage available at Olive Market FX Brokerage is up to 1:300. We were not able to find accurate information about spreads – there is a separate section for it but surprisingly, it does not say anything valuable. According to the website they have competitive spreads and different spread groups but seems like you won't be able to find the exact info until you open an account, which is quite strange. The trading platform available for users is MetaTrader 4 – this is a quite popular tool used by the majority of reputable forex brokers all around the world. The reason why it is widely used is that with the help of MT4 customers can get the arrangements that will positively affect their trading performance. You can even create your own personal study charts and make better trading decisions.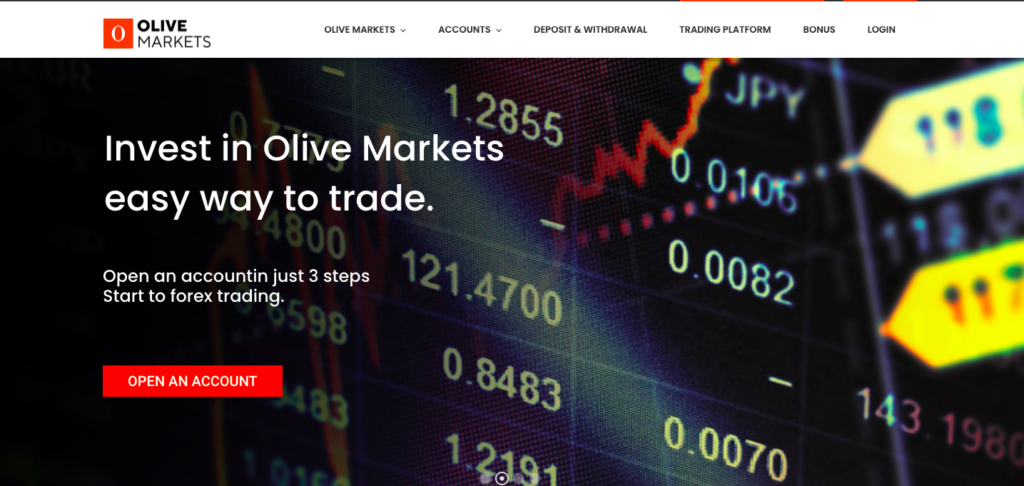 With a $100 minimum on trading account deposits, you can start trading at Olive Markets right away. There are several bonuses offers available on the platform that we will discuss in more detail later in the article. If you decide to sign up for the website, you have the possibility to choose between live or demo accounts. Trading products include Forex, Commodities, Shares, Indices, and Cryptocurrencies.
When dealing with a Forex broker, another important thing is its customer support service, as it is a good indicator of whether its services are high-quality or not. At Olive Markets, there are several ways to contact the support team including a phone call (which is free), email, and contact form available on their website. There is also a live-chat function available at the bottom-right corner of their page, which can only be accessed on weekdays.
Is Olive Markets Legit?
Yes, Olive Markets is a legit Forex company as it is licensed by GLOFSA (also known as Global Finances Services Authority). What this means is that if something inconvenient happens (e.g they steal your money, the company goes bankrupt), there will be a financial regulatory body that will take all the necessary actions to protect you as a customer. With the GLOFSA accreditation, the company is able to utilize a compensation insurance policy – your investments up to $200000 are insured. The good news is that all the investors are automatically covered with this policy and it is free of charge.
Additionally, your funds are kept in segregated bank accounts, meaning that they are completely separate from the company's capital and your money is secured. All in all, being regulated is a very good sign and our advice is to always go for the platforms that hold a decent license and are considered trustworthy.
Olive Markets Review – Trading Features
Having a license is definitely a good thing, but is it enough for the company to convince us that it is worth our money, time, and attention? Of course, no. There are a lot of other details that one should keep in mind before choosing a specific platform. Trading features offered by a broker are very important and they can easily influence your decision-making process. Let's take a look at what Olive Markets has to offer to its clients in more detail.
Leverage & Spreads
As we already mentioned earlier in this Olive Markets review, the maximum leverage that is offered to customers is up to 1:300. It is important to mention that leverage can go lower for different trading products, for instance, commodities come with 1:100 leverage, while the same for shares and indices is 1:10 and 1:100 respectively. The maximum leverage is above the industry's average and can be attractive to low-risk traders and newcomers, as low leverages do not involve high risks of losing your funds. However, if you love taking risks and want to get a big amount of money in a short time, it might be a better idea for you to go for platforms with higher leverage.
The website does not provide any valuable information about spreads, and it is a big minus because spreads take a big part in the decision-making process. Hiding such a piece of information can be caused by different reasons – one can be that they are very high and the company intentionally does not mention anything about them before signing up for an account. Anyways, it is clear that this is not a good move at all.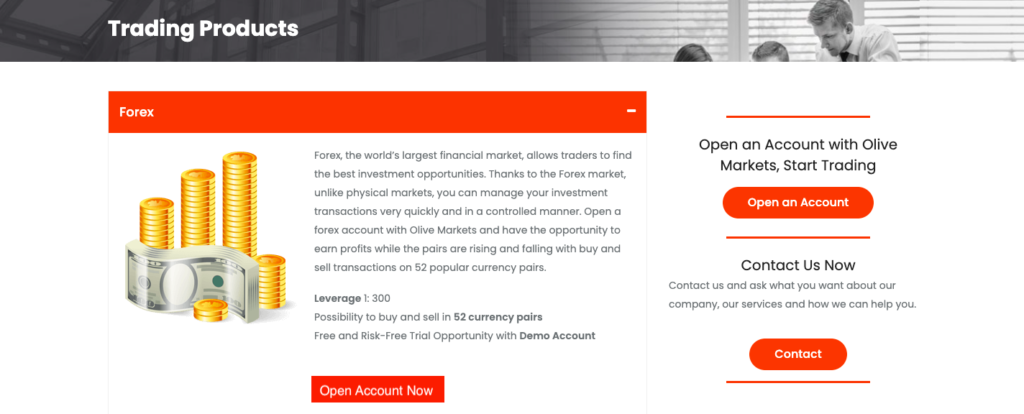 Account Types
The website has a separate section for the accounts, however, it does not mention if there are specific types of accounts available, only thing we were able to discover is that there is the possibility to open live or demo accounts. After clicking on each of them, you are immediately taken to a registration page – normally, a good forex broker would provide details about different types of accounts and let you make a decision based on the necessary information that might have been valuable for you. Seems like that's not the case for Olive Markets.
As for deposit and withdrawal methods, you can fund your account using EFT / SWIFT bank transfers, credit cards, and cryptocurrencies. Customers can fund their accounts using different digital coins including Bitcoin, Litecoin, Ethereum, and Ripple. Considering the fact that cryptos are becoming extremely popular worldwide, their presence is actually good, giving the clients the possibility to make deposits with their favorite payment method, whether crypto or fiat currencies.
Minimum Deposit
The minimum deposit is the amount that you need to deposit in your personal trading account until you can start your betting journey. In the case of Olive Market, this amount is set to $100, which is quite competitive and correlates with the industry's standard. However, we feel the need to mention the fact that there are a lot of other reputable forex companies that offer less minimum deposit amounts available on their platform – it might be a good idea for you to make research on them as well and choose the one that suits your interests best.
Bonuses
We were quite surprised when we found that Olive Markets has bonus offers available on the platform. Usually, the most reputable forex brands are restricted from attracting new customers through promo codes due to the financial regulatory body's regulations. Generally, bonuses are a great way for fraudulent companies to attract new customers into their systems, as they come with terms and conditions that are not in favor of customers.
If you are a newcomer to Olive Markets' platform, then you will be greeted with a welcome package which is a 15% bonus. There is also a crypto bonus available, giving you the possibility to earn a 5% extra bonus on all investments made by cryptocurrencies. Additionally, if you refer a friend, you can enjoy a $100 bonus, while your friend gets a 15% bonus too. Customers can even get a bonus in case of transferring their entire trading account to Olive Markets. All in all, there are 4 bonus offers in total, but it is not possible to get additional information about them unless you open an account, which is another red sign and suspicious action by the website. We love transparency and would like Olive Markets to be more honest and open with its trading features, which can help them attract new customers (if they are any good, of course).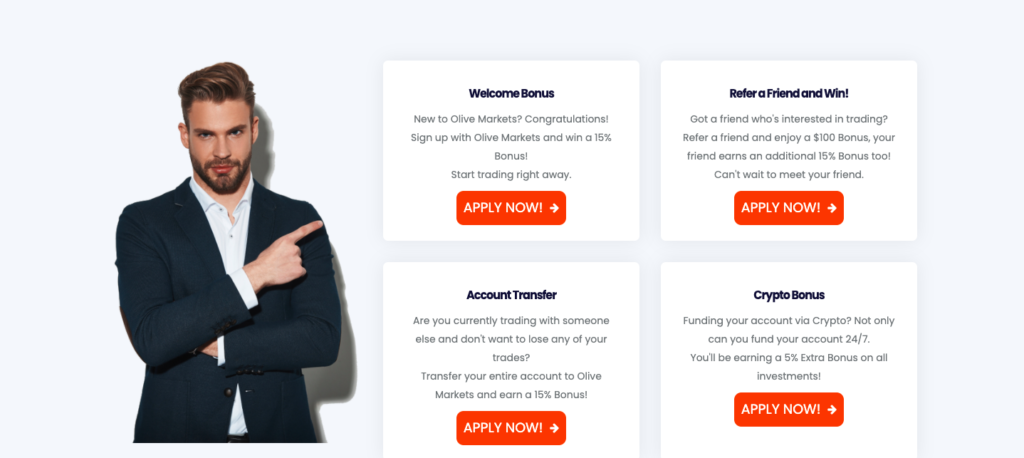 The lack of information on their main website does not give us the ability to evaluate the company's trading features accurately. From what we know, we can say that leverage is not very attractive as it does not correlate with the industry's standard. Minimum deposit might be competitive, but this alone is not enough for us to recommend Olive Markets to our readers. The presence of bonuses might be a plus for some traders, however, once again, the lack of information does not give us the ability to say whether they are any good or not.
Olive Markets – Final Verdict
Finally, we can say that Olive Markets might have some good features – the fact that they are licensed is a very big plus because it is a guarantee of a safe trading experience. However, other trading conditions offered by them do not look very attractive to us. Hiding specific "metrics" is suspicious, and leads us to believe that some indicators are very high and are not mentioned due to the fact that they might not look very attractive to customers. Nowadays, there are a lot of other forex platforms that offer better qualities that one can take advantage of and we advise you to go and check them out in order to make the best possible decision.
FAQ on Olive Markets