Blueberry Markets review – Shall you trust this broker?

The huge pool of financial brokers makes it really challenging for traders to decide on the right broker they want to work with. It is very easy to mix the real brokers with the fraudulent ones because the faulty ones are finding creative ways to deceive readers.
A trader shall be especially careful when a broker is too good to be true because that is the first red flag – trading is full of risks, and that is what makes it exciting.
Blueberry Markets is a financial broker active in the Australian market. Since then, there have been mixed Blueberry Markets opinions and we have decided to give it a check and go through their services and offers.
Blueberry Markets broker claims to be licensed by the SCB and AISC, and the company is promoted as one of the top brokers around the world.
The maximum leverage offered by the broker is 1:500, and the spread range is floating and it starts from 0.0 pips. There are two types of accounts available and they differ in the way the commission fees are structured.
Blueberry Markets broker offers multiple trading platforms and the minimum trade lot size is 0.01.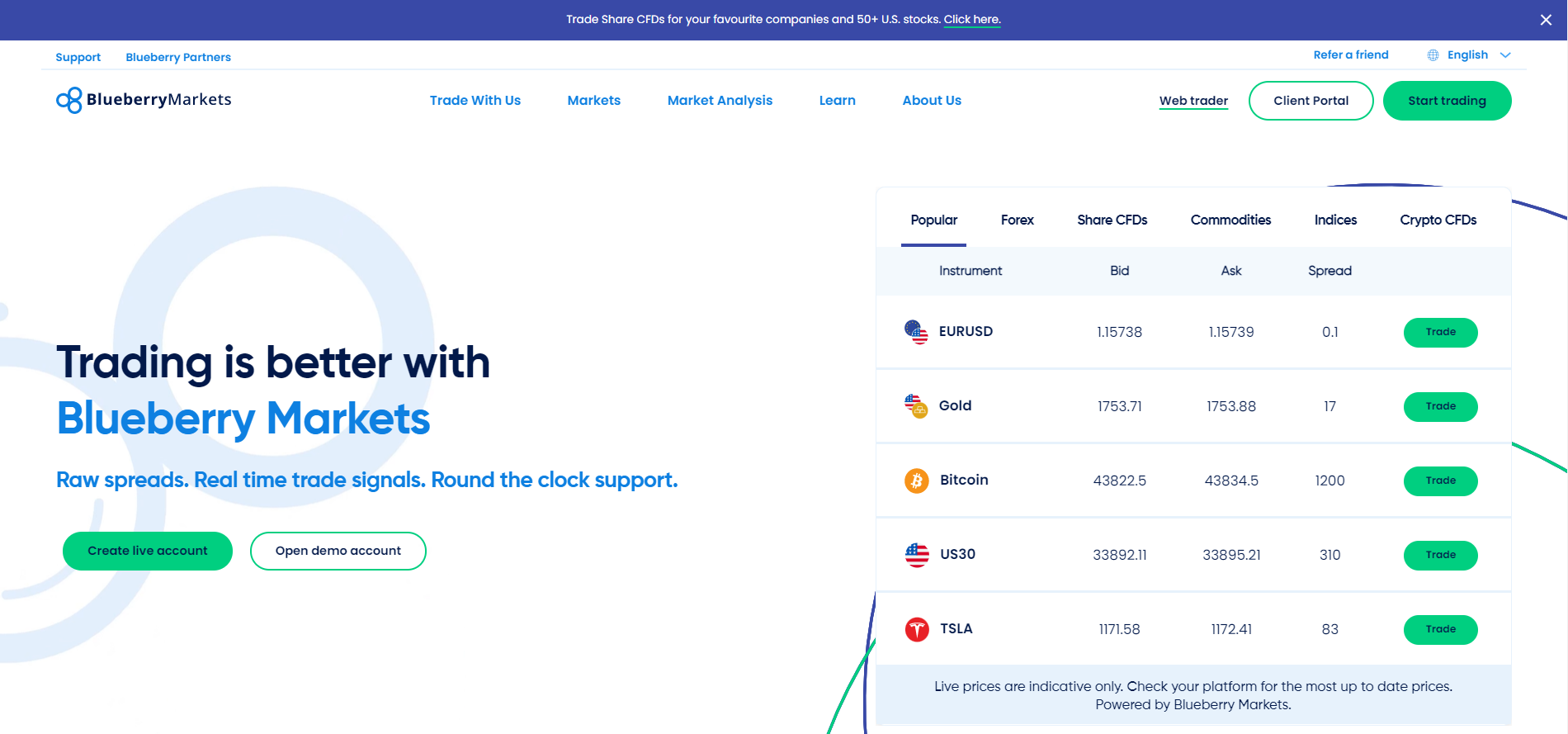 Is Blueberry Markets broker regulated?
This broker operates with two licenses the SCB and the ASIC. The first one is the Securities Commission of The Bahamas and it enables the broker to conduct financial transactions on the lands of the Bahamas.
This can be called a low-tier certification because it does not put any strict rules for the behavior of companies, which leads many companies around the world to offshore their illicit businesses to the Bahamas, far from sight and in a relaxed business environment.
And it raises the risk of dealing with this broker.
On the other hand, the Australian Securities & Investments Commission imposes some regulations on the way companies behave. However, the Australian financial system used to be full of gaps, and Blueberry Markets scam broker takes advantage of the loopholes that exist in the system.
ASIC is a middle-tier license that does not impose a stringent punishment system if a broker misbehaves, and there have many scandals of financial crimes originating from Australian brokers.
Registering your account
In order to get registered, you need to find the green box on the top-right corner of the main page and click "start trading", here you will have to insert your personal information such as full name, email address, phone number, and country of residence.
After that you will receive a verification link on your email, click that to verify the account creation step, then you will have to submit some additional documents to verify your identity.
Be careful of the information you are providing to this broker because every scammer similar to Blueberry Markets fraud broker will ask you to submit a copy of your credit card with full information exposed, and once you have done that, your money becomes at their disposal.
Trading account
There are two types of accounts that are offered here, and they only differ in the way the commission fees are structured between the spread and the fixed amount.
Everything else remains the same such as minimum deposit, maximum leverage, trading platforms, minimum lot size, and market accessibility.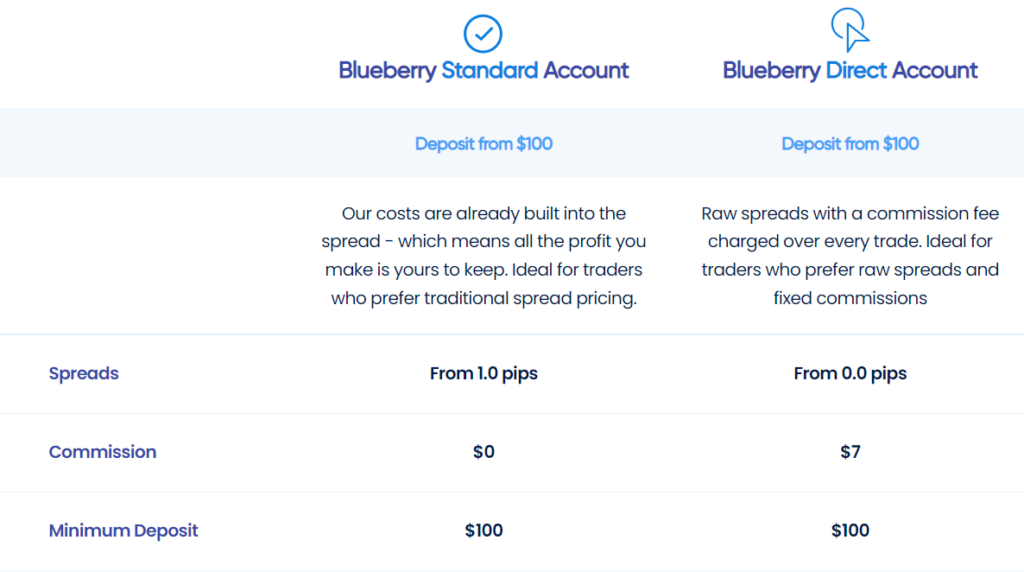 Blueberry standard account
This type of account incorporated the commission into the spread that starts from 1.0 pips, with zero trading commission fees.
This means that a trader will receive all the gains they realize from trading in a specific market, and there are no further commissions to be charged.
This type of offer opens the door for hidden fees, it is very possible that some other non-trading fees will take place since the broker does not state anything in detail. In addition to that, the spread here can change rapidly in an unnatural way to boost the broker's income.
Blueberry direct account
In this account, Blueberry Markets broker offers fixed fees with low spread ranges, the fixed commission amounts to $7 per trade and a raw spread range that starts from 0.0 pips.
This offer does not really represent a great deal for brokers because there are double fees hidden here. The spread starts from zero, but since markets fluctuate it could be much higher than 0.0 pips, and even if it was 0.5 pips, this means that the trader is paying fees in terms of spread and an additional $7 per trade.
Tradable assets
Blueberry Markets offers traders a wide variety of markets and products to get involved in, from Forex to stocks, indices, commodities, and cryptocurrencies.
However, Blueberry Markets scam broker's website is full of flaws, the website does not state how many assets there are per market and what these assets are. One can only know that after registration, and then it would be too late.
Forex
The largest financial market is available on this website, and Blueberry Markets offers the top Major currencies, besides some crosses and exotics, but we do not know the exact number of currencies pair.
The major currencies available include EUR/USD, GBP/USD, USD/JPY. While the crosses include EUR/GBP and EUR/JPY.
It is stated that the spreads here start from 0.0 pips but we think Blueberry Markets cannot be trusted because it was mentioned elsewhere the spread changes per account, so the start from 0.0 pips is quite not realistic.
Stocks
Stocks CFDs trading is available and the broker offers maximum leverage that is limited to 1:5.
However, the website does not state how many stocks are available, it does only state that the share available include Amazon, Facebook, Apple, Tesla, and Netflix
Indices
Indices of global markets around the world are available, including the US indices, the EU, the UK, Japanese and Australian indices as well.
This section of www.blueberrymarkets.com is full of errors and flaws, the spreads are wrongly calculated and the commissions are stated to start from zero, which we know is not quite possible because the website mentions something else under the accounts page.
Commodities
The commodity market is a classic way of trading, and there are many products that can be traded, but the website only mentions precious metals (3 products) and oils (2 assets) which does not excite many commodity traders to get started with this broker.
Add to that, another wrong spread calculation where the decimals are totally messed up, which can confuse every potential trader.
Cryptocurrencies
Trading with cryptos has fixed leverage of 1:10 which is very strange since this multiplier does not help traders amplify their trading position and does not follow any regulatory limits.
New cryptos are emerging every day and many traders are showing more interest in this market, but the lack of information here can make any trader avoid this website.
Trading platforms
Traders prefer a website that offers multiple ways to handle different market positions, and Blueberry Markets financial broker offers Metatrader4 and Metatrader5 for its clients to manage their trades.
Despite being the most used trading platform, the Blueberry MT4 and MT5 trading platform adoption may not necessarily mean that it is a reliable broker, because this software became so popular that any broker can now use it and offer it.
In addition to the MetaTrader, clients can also use the Webtrader that is available on the broker's website. Many traders prefer using the Webtrader because it does not require the installation of any 3rd party software, a user can directly start trading once they enter the broker's website.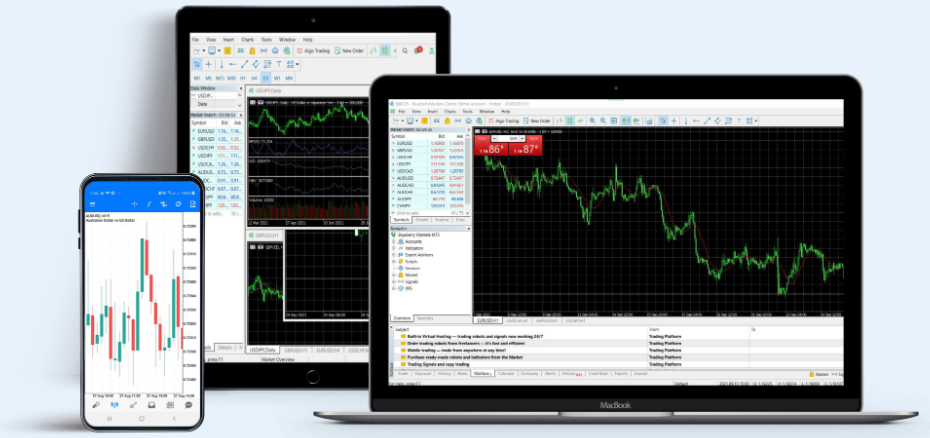 Deposits
Blueberry broker offers several ways for clients to deposit money into their trading account, that includes credit/debit cards, e-wallets, crypto-wallets, and wire transfers.
Most of these deposit methods are processed instantly, and few of them take up to 2 business days, the same goes for the depositing fees.
Visa/Mastercard is the best way for traders to add funds because it is instant and takes zero fees, followed by crypto-wallets that are characterized by being very quick.
The other options that are suitable for Australian traders are the PoliPay, and BPay since they charge no fees and happen instantly.
Withdrawals
Blueberry Markets withdrawal methods are also variable and the trader can choose the most suitable way.
Visa/Mastercard is considered also the best way to cash out with zero fees, however, it might take 1-3 business days for the amount to show up on your account.
All the withdrawals methods take between 1-7 business to be processed, and the wire transfer usually takes the most time to get delivered.
The crypto-wallets are very useful in this sense because they are quick, up to 24 hours maximum, and charge no commission fees, however, the crypto-wallets are not allowed for Australian traders.
Australian traders are suggested to use PoliPay or BPay because they are locally accepted and take no commission fees.

Additional features
Scam brokers are known to use any possible means to lure more traders, and that is what Blueberry brokers do by offering several investing and trading channels to attract the largest portion of money funders. We will take a look at the other methods that this broker adopts to get more funds.
PAMM programs
This program ideally intends to create a platform where investors meet together and invest their money with a manager, the manager who is supposedly experienced in managing this fund in a profitable investment to grow the capital.
If you are interested in such a program, Blueberry Markets is not a safe place to put your money, especially when some stranger called "manager" is controlling your money, you shall not expect to see your money again.
Affiliate program
If you do not trust this broker to invest in financial markets, there is no reason to trust them as an affiliate marketer. There have been many issues with affiliates saying that Blueberry has never paid them or changed their rate without a prior note.
Thus, the ambiguity around this program is what makes traders keep away from this website.
Virtual Private Server
Many brokers offer a virtual private server or a VPS, and they charge for it because it is ideally costly for brokers to set up a VPS for their clients.
Offering such a service for free is what makes it suspicious, which is what Blueberry Markets fraud broker does when they offer free VPS, if something is offered for free there is definitely some hidden fee behind it.
Demo account
This might be one of the few useful services on this website, the demo account helps the traders tries strategies, and helps beginners get themselves familiar with what trading looks like.
To set up your demo trading account, you will need to go through a similar process to the live account registration. Once you are registered for the demo you will receive $10,000 virtual money to start trading in a simulation to real-life trading scenarios.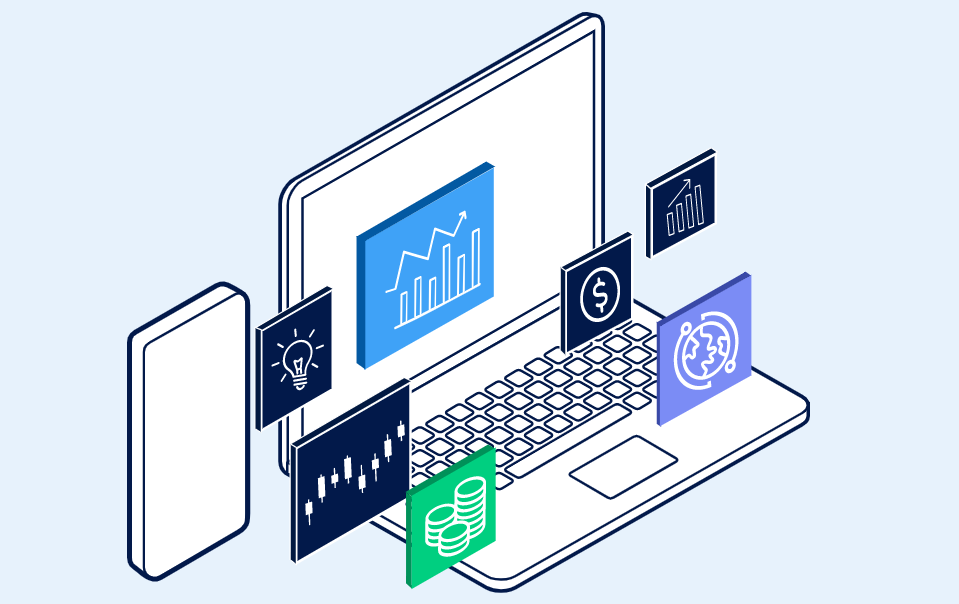 Trader support
There is nothing more frustrating for a trader than being left alone without proper support from the broker, and this is what traders experience with this broker.
The only available ways for communication are the telephone number which is a local Australian number, and a support email and the latter is not really an efficient way for traders to get fast answers.
The live chat is super noisy and pushy, their notifications are all the time, but when it comes to real help, they just answer fast without any meaningful response, and it seems that it is based on bots, and automated responses.
Final verdict
We suggest to keep searching for a better broker than this one, Blueberry Markets is not a legit broker that you would trust on your money, their sketchy activities raise many red flags.
This broker's website seems very well designed in an attempt to catch the reader's eye, but when we looked at the services they offer through this Blueberry Markets review, and we found many flaws and mistakes in basic trading concepts.
The license this broker holds does not qualify to be any close to the top traders around the world, we suggest finding a broker that holds globally recognized licenses because they can serve several markets, under globally accepted measurements.