AccuIndex Review – Can You Trust this Broker and its Offerings?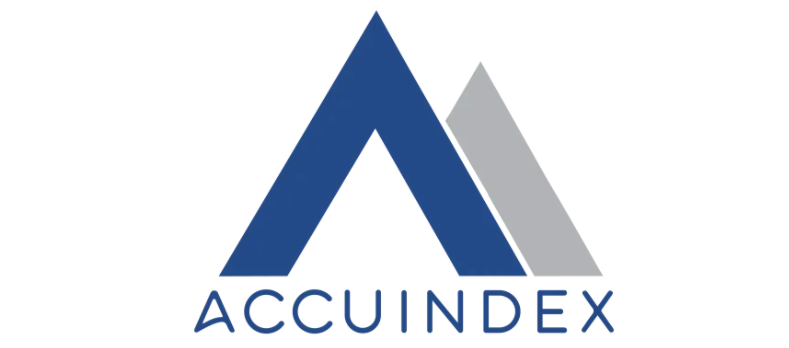 In Forex, getting a trustworthy Forex broker is just as important as perfecting your trading knowledge and skills. You might have all that it takes to succeed in the market, yet a fraudulent broker can easily mess up your entire trading experience.
This is why you should never overlook the broker selection process. But how can you know which broker can be trusted? What are the characteristics of a legitimate brokerage, as well as a scammer?
Well, our team of reviewers at Top Forex Trading Brokers is here to help you out. In the following review of AccuIndex Forex broker, we'll help you understand all of the ins and outs of this particular platform and give you our honest take on its credibility.
So, let's not waste any more time and get straight to the review here.
First impressions
AccuIndex is a Forex brokerage established in 2016 in Cyprus. Its headquarters is located at 1 Ayias Zonis Street Nicolaou Pentadromos Centre Block B, Limassol 3026, Cyprus.
The very first thing we wanted to check is the broker's license. As it turns out, AccuIndex comes with two licenses from Cyprus and Mauritius, however, as we'll see it further down below, at least one of these licenses is nothing more than a hoax.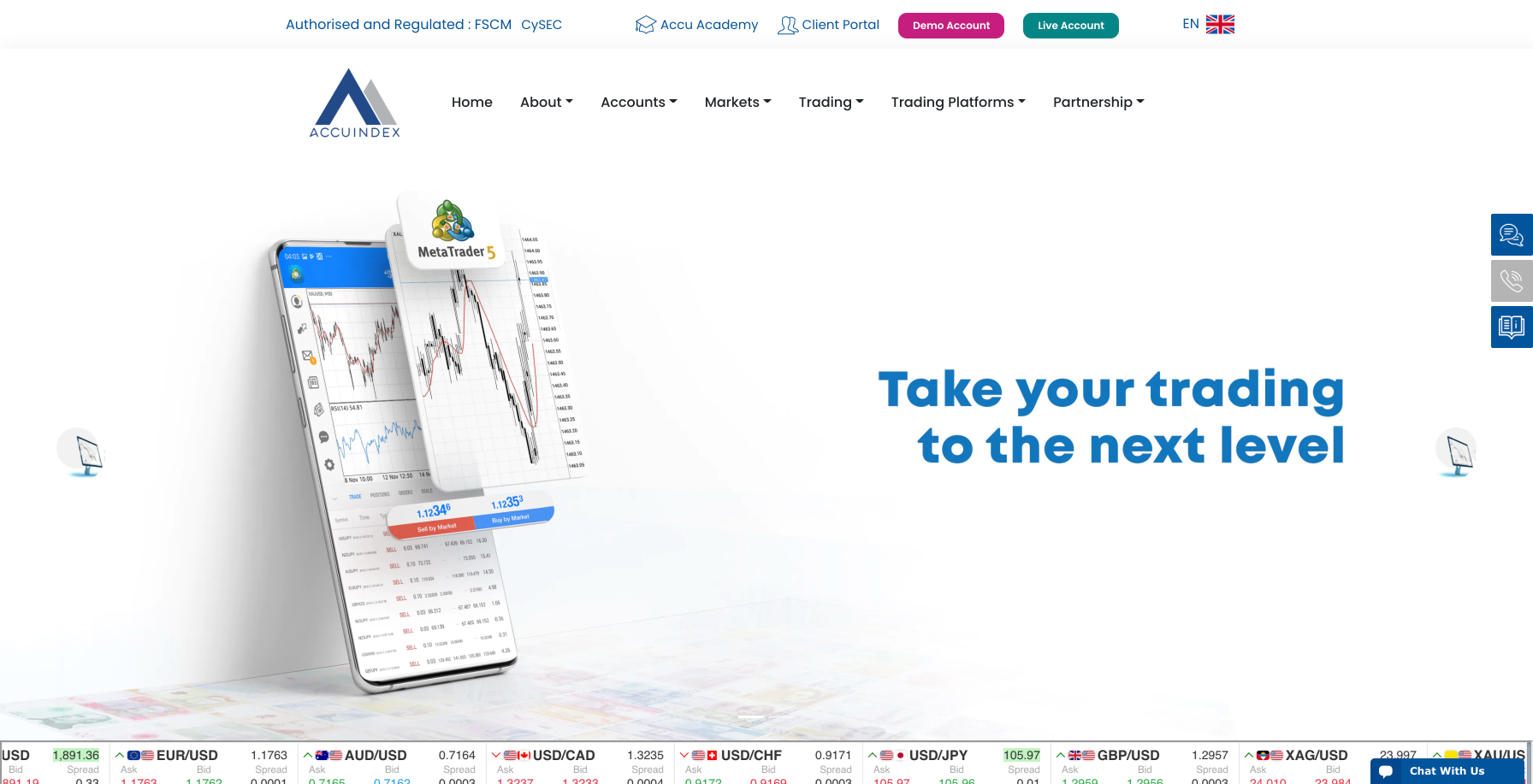 The regulatory shortcomings directly translate into inefficiencies and even dangers in trading terms and conditions. First off, we weren't really impressed by the number of instruments offered on the website. While you can choose from five different asset categories, our AccuIndex review still fails to convince us why exactly trading with this broker would be of any benefit.
As for the trading features accompanying these instruments, we have discovered that some of them are extremely risky and damaging to your portfolio (leverage), while others are pretty uninspiring (spreads). We'll explain these in more detail later in this review.
Trading platforms are among the rarest elements of AccuIndex that don't suck. MetaTrader 5 powers the entire trading process at AccuIndex, and while it doesn't really ensure your financial safety, at least it provides you with the best tools to make accurate predictions about future price movements.
AccuIndex's website is more or less decent inasmuch as it's not cluttered with overzealous visual decorations. However, the information provided on it looks to be false – at least some of it. As for account types, AccuIndex has a very limited package that doesn't account for beginners or above-average traders.
In short, our initial AccuIndex opinion is definitely not good, and we expect it to get even worse as we continue with this review.
Is license legit at AccuIndex?
First things first, let's start our discussion with AccuIndex's regulations. When looking for a Forex broker, you should always ensure that it has the sturdiest, most credible license from a trustworthy regulator. Otherwise, there will be literally nothing to stop the broker from scamming you and stealing your money.
On its website, AccuIndex claims to have two licenses from two separate financial regulators:
Cyprus Securities and Exchange Commission (CySEC)
Financial Services Commission (FSC) of Mauritius
As we have noted this earlier, we find AccuIndex's regulatory framework suspicious, to say the least. If the CySEC regulation was actually real and AccuIndex was regulated by it in real life, we would have literally nothing against the broker and would immediately finish this review by declaring it trustworthy.
Unfortunately, however, the AccuIndex scam looks way more real than it seems at the first glance. Under the CySEC guidelines, AccuIndex should have featured a more modest leverage rate than it does right now: the maximum leverage cap in the EU, as well as in the US, is locked at 1:30, and of the broker claims to go as high as 1:400, it means that either it's lying about its leverage or about the license.

Regardless of which alternative is true, we're getting a broker that is lying to your face. And a lying broker isn't the most appealing partner in this area.
So, if the CySEC doesn't protect you from the broker's fraudulent activities, the only remaining regulator is the FSC from Mauritius. And to entrust your hard-earned money to the regulator from a third-world country is a bit of a risk.
In short, we can easily say that AccuIndex doesn't have proper licensing to ensure financial security on its platform.
AccuIndex promotion – Are they real?
The next discussion point in our AccuIndex review is going to be the broker's trading terms and conditions. People always want to know more about the availability of financial instruments, as well as commission levels and leverage rates that come with these instruments.
As we have discovered, AccuIndex mainly focuses on spreads. However, there are still other commission types you'll come across on the platform, deposit/withdrawal fees included. Plus, even the lowest spread markups at 1 pip aren't that impressive, especially when compared to its competitors. The broker also doesn't specify whether it has specific deposit and withdrawal commissions, yet the terms and conditions document does say that there will be some charges applied to your payments. Thus, the commission levels aren't that great at AccuIndex.
Leverage is a completely different case. As noted earlier, AccuIndex goes way off the line by featuring 1:400 leverage on its platform, completely ignoring the directives set by the Cyprus Securities and Exchange Commission (CySEC). And that's exactly why you should watch out for the AccuIndex fraud: the broker would rather promote its platform by fancy trading features than protect your safety in the market. That's because higher leverage rates increase the chances of much larger losses, and AccuIndex doesn't even offer you negative balance protection to offset this danger.
To give the broker some credit, AccuIndex does feature a more or less diverse collection of trading instruments. If you choose AccuIndex as your service provider, you'll be able to trade the following assets:
Currency pairs
Index CFDs
Bullion CFDs
Commodities
Exchange-Traded Funds (ETFs)
What's great about the multitude of trading instruments is that you can diversify your portfolio from various market risks. Although, the exact number doesn't even reach a hundred, which somewhat limits your options. Plus, there are no stocks you can choose from, and stocks are the most popular diversification assets in this industry.
Another trading feature we wanted to check out is payment methods. As we found out, AccuIndex withdrawals and deposits are powered by four different methods: bank wire transfer, credit/debit cards, Neteller, and Skrill. What's strange about these methods is that we don't specifically know what commissions AccuIndex imposes on them; what we know, however, is that there might be some charges applied to your transactions, which already paints the whole picture.
The website review
And finally, let's take a look at the broker's website, as well as its software support.
When we checked out the website, we felt the design was more or less decent. It doesn't complicate the user experience with unnecessary decorations and visual effects, and the combination of the white background and light-blue fonts creates a nice overall tone.
However, what this website lacks is sincerity. While we were able to find information about pretty much anything, the legitimacy of the details provided is pretty doubtful. For example, either AccuIndex is lying about its maximum leverage or it doesn't have a CySEC license, which further enforces the AccuIndex scam suspicions.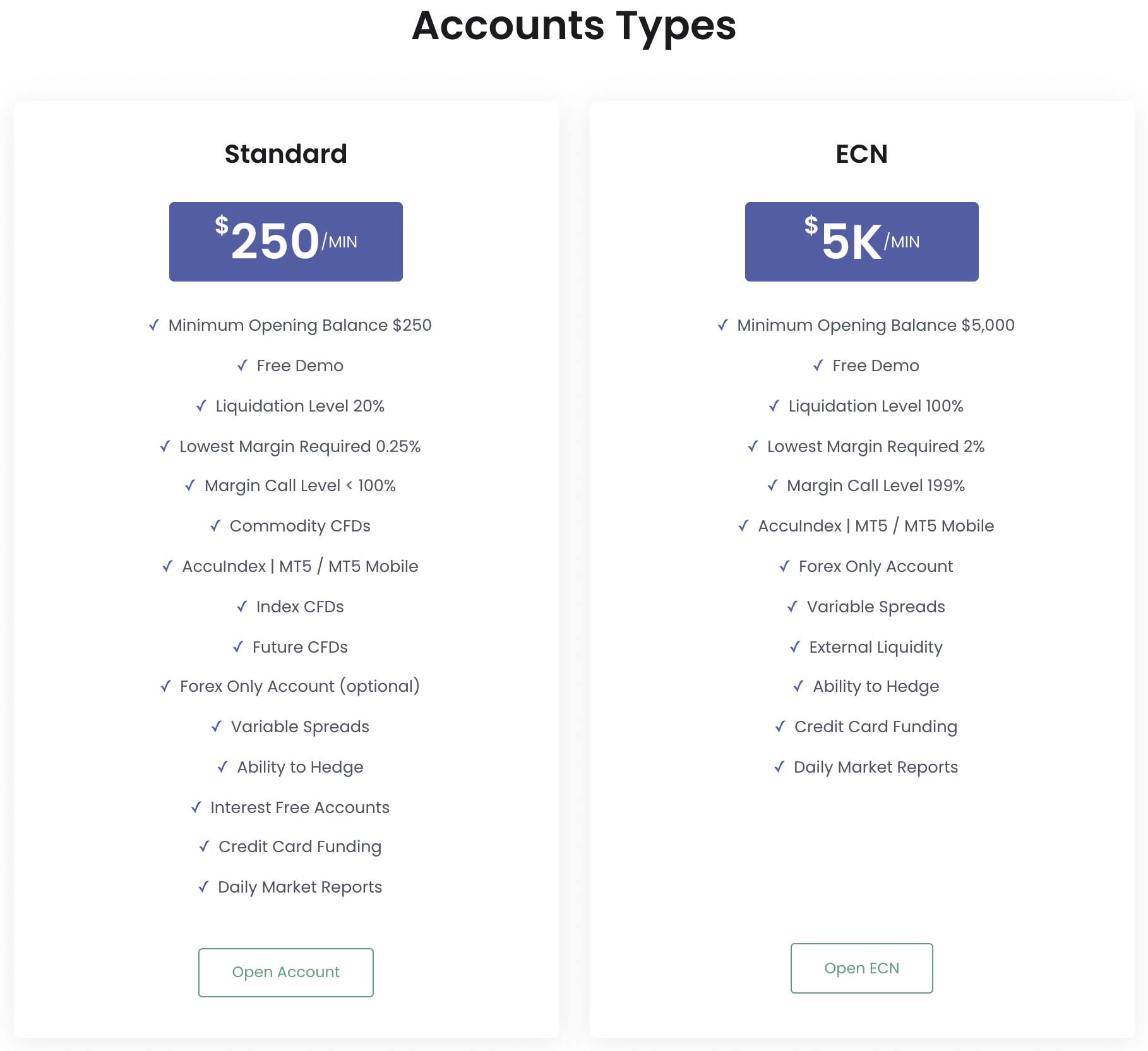 Trading accounts are also a pretty disadvantageous feature at AccuIndex; the broker only features two accounts you can choose from:
Standard – 250 USD minimum deposit
ECN – 5,000 USD minimum deposit
And out of these accounts, the regular traders will only be able to create/afford the Standard one, simply because it has a lower deposit requirement, low commission rates, and the overall simplicity of the platform. And it goes without saying that the only one retail account doesn't target all sorts of different traders' needs, be it beginners or above-average ones.
As for the ECN account, it's by far the least user-friendly platforms you can find in Forex right now. While it does offer high-class trading opportunities, it's also the most difficult one to actually handle.
In short, AccuIndex is very limited in terms of its account offerings.
And finally, let's take a look at the broker's trading platforms. The AccuIndex MetaTrader 5 is the only primary platform you can use with this broker, which, to be fair, isn't a bad thing at all. The software is filled with a bunch of beneficial trading features, and it allows you to maximize your trading potential in the market.
Unfortunately, however, this doesn't make up for the lack of sincerity and lack of proper regulation found in our review. AccuIndex still remains a flawed broker that we cannot possibly recommend.
Should you trade with AccuIndex?
So, what's our ultimate opinion of AccuIndex Forex broker? Is it worth your time and effort, not to mention your hard-earned money?
Well, as our review shows, it's definitely not. The broker has a flawed regulatory system, which is built upon a lie that there's a high-tier CySEC license regulating the broker's actions.
Trading terms and conditions are also underwhelming, as well as suspicious at times. And the rare website advantages don't offset the shortcomings of the entire trading platform.
All in all, AccuIndex is a fraudulent broker and you should definitely stay away from it.