Brokereo Review – Why Is Trading so Beneficial with this Broker?
Forex trading can be a very lucrative source of income for you if you have enough knowledge and skillset to know what's right for you. Yet it can also be very dangerous to your financial security.
One piece of knowledge you should have is that not all Forex brokers are created equal. While nearly all of them claim to have great trading terms and conditions and safety features, some of them are most certainly cheating you. They want to lure you in with such claims and then steal your money.
But how can you possibly differentiate scammers from legit brokers? Well, you can conduct your own research or read our in-depth reviews and find out everything about brokers.
In this review of Brokereo Forex broker, our reviewers take a close look at a yet another brokerage with seemingly decent trading terms and conditions. Make sure to read this review fully to know whether Brokereo is the right broker for you or not.
How Brokereo protects your safety
The first important aspect you need to look for in a broker is its safety features. This can determine whether it's worth your while making a significant investment with this firm or not.
With Brokereo, you can rest assured that the threats of a scam are nothing but speculation. The company is based off of Cyprus, with the headquarters located at Pavlou Nirvana No 4, ALPHA TOWER, Office N 13, 3021 Limassol, Cyprus.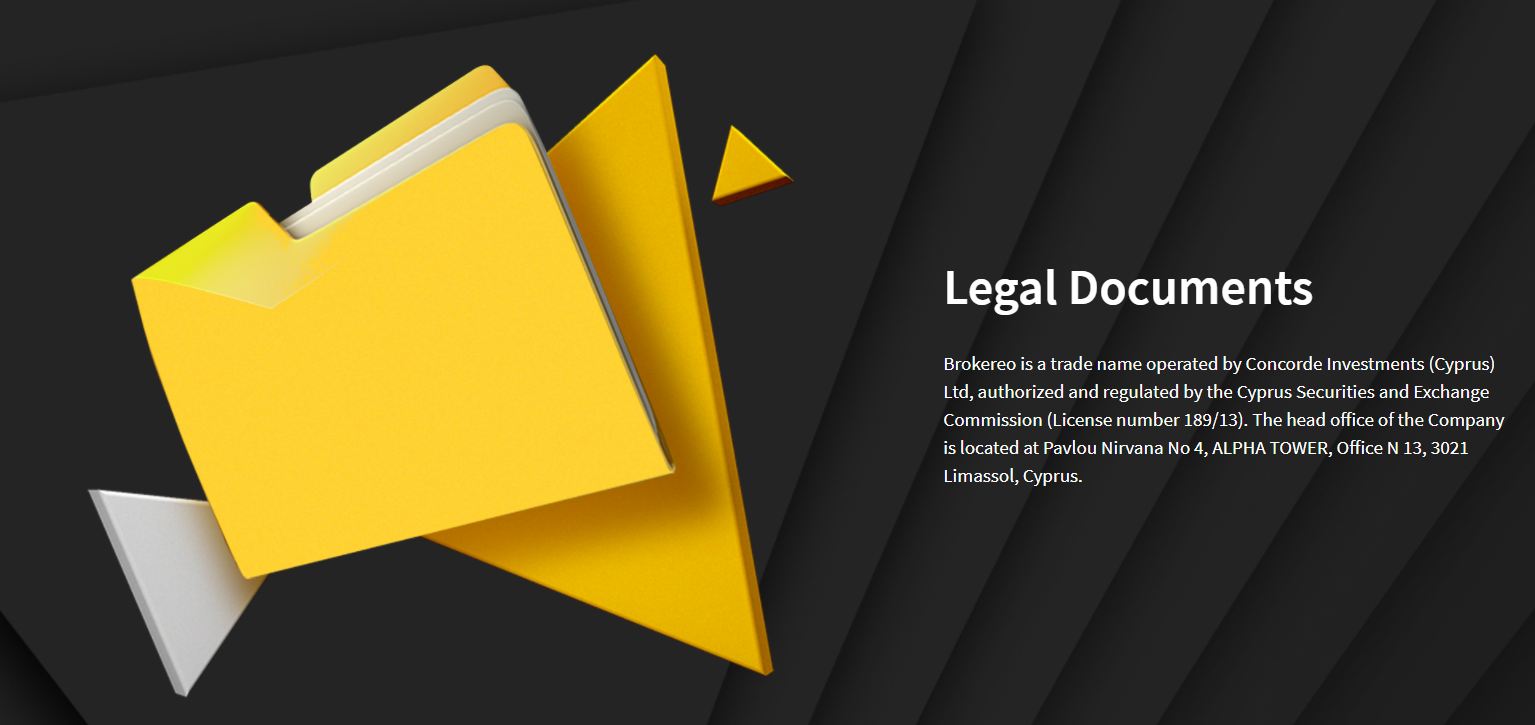 And as a Cyprus-based broker, Brokereo holds the license from the Cyprus Securities and Exchange Commission (CySEC). Now, as our Brokereo broker review shows, the CySEC license does manage to hold this brokerage accountable for its actions. This, in the long run, ensures that Brokereo doesn't get entangled in fraudulent activities and that it continues to provide the safest platform out there.
What's also great about the CySEC license is that it also enforces the MiFID and ESMA directives from the EU. Collectively, all three of the regulatory frameworks monitor Brokereo's actions and protect you from unfaithful treatment.
Trading safety is also enforced by the three separate fund protection mechanisms at Brokereo. These include:
Negative balance protection
Customer compensation fund
Account segregation
The reason why these measures are so important is that whenever something unexpected happens to the market, you can rest assured knowing that your funds are safely stored on segregated accounts. Moreover, if you use leverage, you can be sure that you won't get into the negative balance.
In short, our Brokereo opinion in terms of its safety features is very optimistic.
Trading accounts at Brokereo, and how to create them
One of the first things you do when you find a broker that suits your needs is creating a live account on its website. And depending on the diversity of these accounts, a broker can be very beneficial or very limiting.
As our review shows, there are three retail accounts, as well as one Professional account, available on the website. They come in a variety of different features, namely:
Silver Account:
Min. Deposit: 250 USD
Min. Spreads: 0.07 pips
Platforms: WebTrader, Mobile Trader
Commission: 0 USD
Max. Leverage: 1:30
Tradable assets: 350+
Execution Type: Market
Automated Trading: Yes
Gold Account:
Min. Deposit: 250 USD
Min. Spreads: 0.05 pips
Platforms: WebTrader, Mobile Trader
Commission: 0 USD
Max. Leverage: 1:30 retail; 1:400/500 Professional
Tradable assets: 350+
Execution Type: Market
Automated Trading: Yes
Platinum Account:
Min. Deposit: 250 USD
Min. Spreads: 0.03 pips
Platforms: WebTrader, Mobile Trader
Commission: 0 USD
Max. Leverage: 1:30 retail; 1:400/500 Professional
Tradable assets: 350+
Execution Type: Market
Automated Trading: Yes
During our Brokereo review, we also found that you can create a Professional account if your portfolio is large enough. And if you go for it, you'll get way more elite trading features. Plus, there's also the ability to set up an Islamic account with zero swaps on overnight trades.
And, if you want to hone your skills and take your trading game to the next level, you can create a demo account with Brokereo. It has an unlimited virtual balance, which allows you to trade any instrument available on Brokereo.
As for how to create an account with Brokereo, there are three simple steps to go through:
Enter your personal details (full name, birth date, citizenship, and employment details)
Verify that information by uploading national ID/Passport/Driver's license
Make a deposit on your account
Once you're done with these steps, your account will be ready to go!
The variety of different instruments at Brokereo
By choosing Brokereo as your service provider, you're getting well over 350 separate financial instruments from six different markets. Here are all of the instrument classes available at Brokereo:
Forex pairs
Cryptocurrencies
Commodities
Shares
Indices
Metals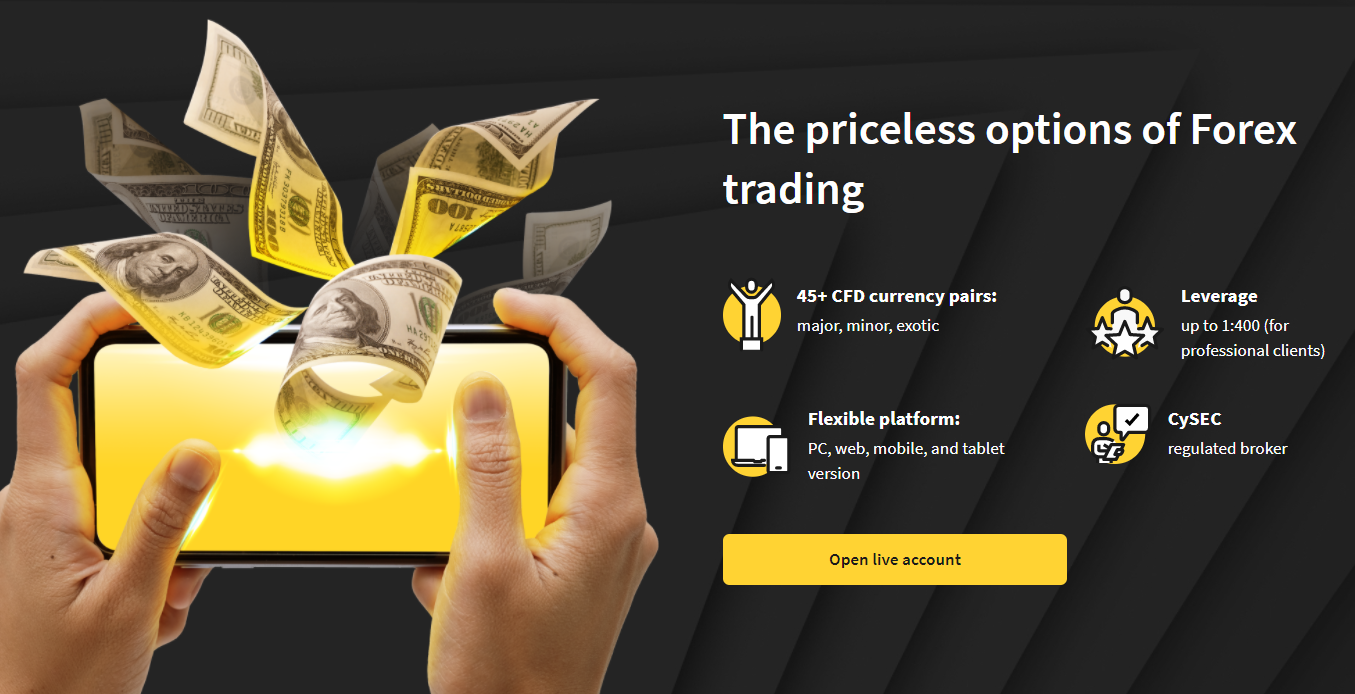 As shown in this review of Brokereo Forex broker, the diversity of trading instruments allows you to better protect your portfolio from unexpected market crises. This strategy is called portfolio diversification and it's one of the most popular ways to manage risks in financial trading.
A great thing about Brokereo and its financial instruments is that they come in very beneficial trading terms and conditions. For instance, Brokereo features a very sophisticated execution policy. With market execution, you can be sure that your every position will be placed virtually instantly, reducing the slippage and spreads quite a bit.
As for leverage, the retail rate you can get with Brokereo is 1:30. This is the maximum leverage cap enforced by CySEC and other Tier-1 Forex regulators, which ensures that entry-level traders aren't endangered by huge losses. But if you want to go even higher than that, our Brokereo broker review shows that the maximum leverage rate is 1:500, which means you can theoretically have a 500 times larger trading capital than what you've originally deposited.
Brokereo's commission rates
Another important trading feature you need to know about is the commission charges at a given broker. While leverage and execution speeds can maximize your profit potential, if the broker imposes too large commissions, you won't be able to withdraw much of your earnings at the end of the day.
As we have discovered, commission levels are Brokereo are more than beneficial. They further contribute to maximizing your profitability in the market.
Trading fees
When it comes to trading fees, Brokereo manages to eliminate at least half of the commission charges. These include instruments and account-maintenance fees. This way, regardless of which trading asset or account you select, there will be no charges to pay.
As for the remaining fees, the following Brokereo review reveals bid/ask spreads, which are also pretty shallow. The minimum spread markup you can get is 0.03 pips, which is very insignificant when compared to other broker's spreads. Additionally, there's also overnight swaps, which you pay for long-term trading positions. But if you go for a Gold or Platinum account, you'll get a 25% or 50% discount, respectively.
Non-trading fees
Non-trading fees are similarly beneficial at Brokereo. The only non-trading commission you're required to pay is the inactivity fee, although you can easily evade it by not letting your account remain inactive for an extended period of time.
Other than that, there are no other non-trading fees, be it deposit or withdrawal charges. Once again, Brokereo demonstrates just how advantageous a broker it really is.
Are there any bonuses at Brokereo?
Moving on, we also wanted to see whether Brokereo features any bonus promotions on its platform. Many brokers use similar promotions to increase the appeal of their platforms without really focusing on more substantial trading terms and conditions.
In our review of Brokereo Forex broker, we have found that it's not the case at all. The CySEC license enforces a strict rule that no bonus or other kind of promotion should be featured on a broker's website. This way, Brokereo dedicates all of its time and effort to fine-tune its commission levels, leverage rates, and other trading features.
Which platforms can you get at Brokereo?
The primary purpose of a broker is to provide you with the necessary tools and features that facilitate the entire trading process. And along with trading instruments, leverage, and execution modes, you need a trading platform to place new trades in the market.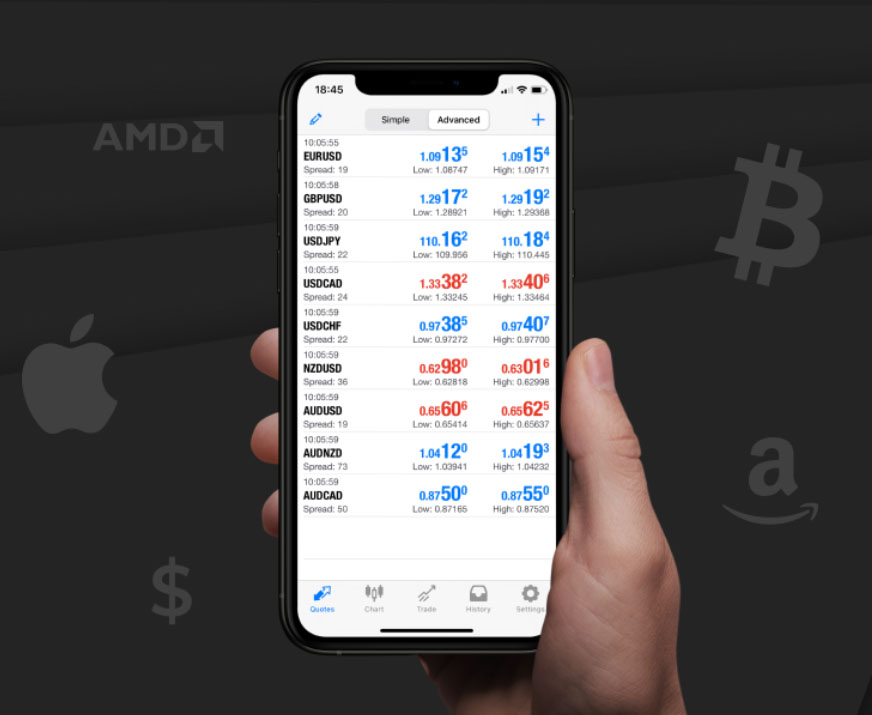 By choosing Brokereo, you're getting some of the most sophisticated platforms one can find in the market. Both WebTrader and Mobile Trader are he prototypes of MetaTrader 4, which ensures that the best trading materials are right at your fingertips.
WebTrader
As we have found during this Brokereo review, WebTrader is an MT4 prototype that works for just about any web browser you can think of, be it Chrome, Firefox, Safari, or Opera. And it packs some serious trading features.
As the broker notes, there are over 60 different analytical objects available on this platform, while with three different chart types and dozens of timeframes, you can better analyze the price movements and predict future trends more accurately.
And, to top it all off, there's a huge MQL4 community on the internet that contains thousands of third-party tools and features. You can easily integrate them into your platform, increasing its flexibility even more.
Mobile Trader
A great advantage of Brokereo is that you can trade with it on your desktop, as well as mobile devices. Like WebTrader, Mobile Trader at Brokereo is also an MT4 prototype, allowing you to use some of the greatest trading features that are available to Forex traders. These include technical indicators, drawing objects, automated robots, and charting mechanisms. And, as our Brokereo Forex broker review reveals, Mobile Trader can be installed on both iOS and Android devices.
Making deposits and withdrawals at Brokereo
Once you create a live trading account at Brokereo, the first thing you need to do is make a deposit on it. And as our experts have found, Brokereo does feature some pretty beneficial payment methods.
First things first, deposit and withdrawal methods include: credit/debit cards (Visa, Maestro, Mastercard, V Pay), bank wire, Neteller, and Skrill. This ensures that regardless of which payment platform you use, there will probably be something for you.
Plus, the conditions for payments are also quite beneficial. As noted earlier, there are no commission charges on deposits and withdrawals at Brokereo; you're getting exactly the same amount of money as you've originally deposited/withdrawn. Moreover, deposits are usually executed instantly, whereas withdrawals take up to 5 days to complete
And, on top of all that, our Brokereo review indicates that all of your payments are securely encrypted by the SSL architecture. This way, you won't have to be afraid of cyber attacks on your account or transactions.
Building trading education with Brokereo
While it's not an obligation, it's always great to do business with a broker that cares not only about the immediate features that increase your profitability but also long-term determinants of your success in the market. We're talking about trading education, of course.
With Brokereo, there is a large selection of educational materials that you can choose from. As our reviewers have discovered, these materials fall into the following categories:
Videos on Demand (VoD)
eBooks
Online courses
Tutorials
You can use all of these materials to take your trading game to the next level. The great thing about them is that they're short and on-point; they don't wear you out with unnecessary information and clutter of technical terms, which further increases our Brokereo opinion.
Brokereo makes it even easier to use its educational section, which is why you can access them via your desktop or smartphone devices for free.
Excellent customer support
As you trade with Brokereo, there will undoubtedly be times when you need its assistance in one particular matter or the other. And the broker's ability to help you determines just how customer-oriented it really is.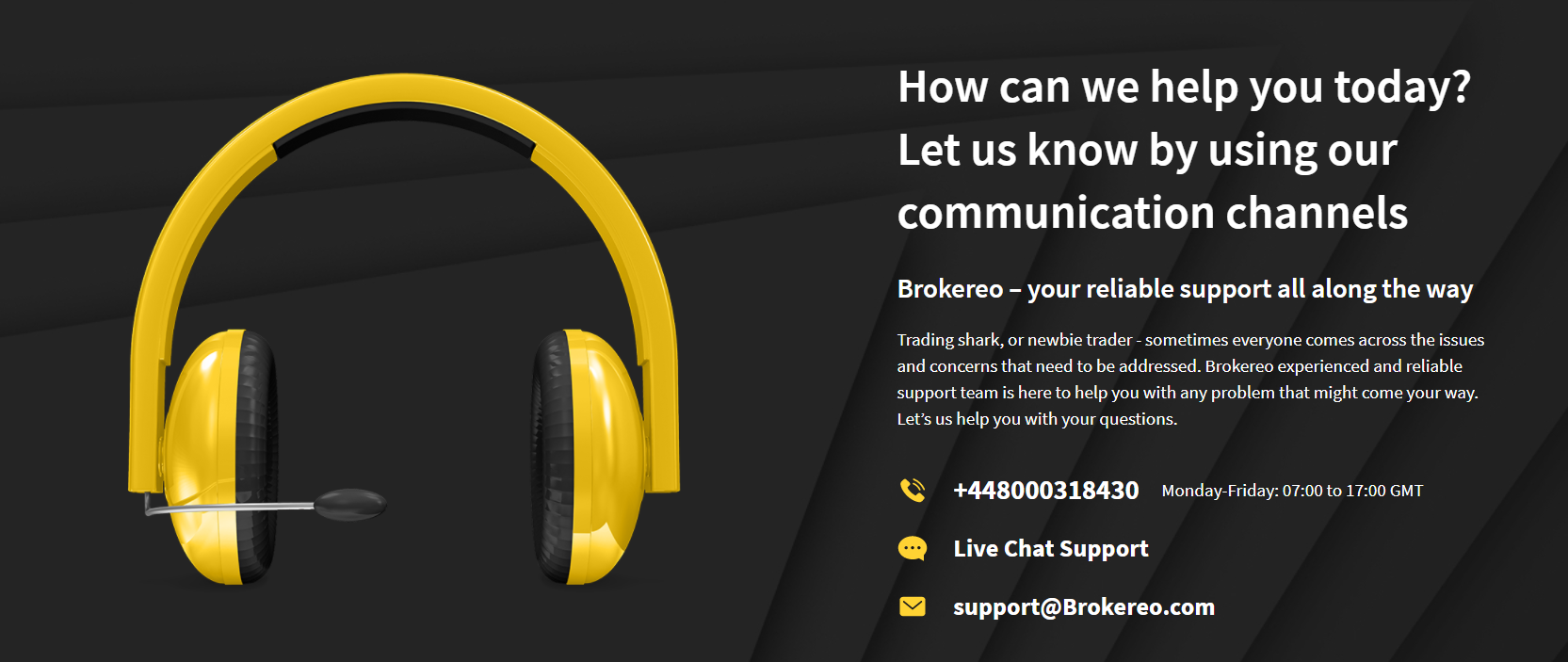 And that's exactly what you're getting with this broker. As our expert reviewers report, there are three different methods you can use to communicate with Brokereo:
Live chat support on the website
Email support: support@Brokereo.com
Phone call: +448000318430
Regardless of which method you use, the support team will always be extremely quick and helpful, providing you with assistance on any problem or question you have. And, what's more, you don't even need to be the Brokereo client to use this service. This further stamps the idea that Brokereo does care about you and your success in the market.
Is it worth trading with Brokereo?
So, after everything we've just discussed about Brokereo and its trading offerings, how would we rate it? Can Brokereo be trusted with your hard-earned money?
Well, Brokereo does come with a pretty sturdy and prestigious license from the CySEC. It ensures that there's no threat of a scam on its platform, and your money is handled the way it's supposed to. The broker also features a number of fund protection mechanisms that add an additional security to your investments.
Trading with Brokereo is also pretty lucrative. You can choose from hundreds of different instruments, whose commission levels are reduced down to insignificant levels, while the maximum leverage goes up to 1:500.
With its execution policy, trading terms and conditions, and safety features, Brokereo can definitely be considered a credible and trustworthy broker. And you should definitely think about trading with its high-powered trading platforms.